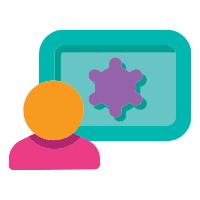 From your initial conversation,
to validation and configuration,
through to pilot
and rollout
, you'll have a
skillful
team of
Flooid
Professional Services experts partner with you to ensure your retail solutions deliver the results
your business
demand
s
.
Flooid's Professional Services engagements start with interactive workshops to understand your retail challenges and demonstrate how Flooid's solutions can help you meet your unique business goals. After we understand your needs, we'll continue to partner with you closely as your project is delivered.
Flooid's collaborative process
The partnership will kick off with an interactive workshop demonstrating the breadth & richness of the

Flooid

product

and establishing the right configuration of your solution to fit requirements.
The solution is configured
and
assess
ed
to run optimally for the environment including hardware, networking and access
considerations
, creating the build and scripts for deployment into the cloud.
The solution

configuration is tested thoroughly to optimize configuration settings,

confirm data and performance,

address any issues, and ensure a successful user adoption experience.
The live pilot in
store allows us to
analyze
data and results and suggest
optimizations
and
rollout
scenarios
that minimize disruption and drive rapid adoption and operational success.
You're now fully up and running as a

Flooid

customer. We continue to support you as you

adapt to change and

grow your business, checking in regularly to discuss

how we can continue to ensure your success.