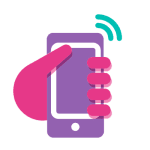 Choose Flooid for freedom of movement
In today's more fluid retail landscape, mobility just makes sense. Customers and your colleagues can save time, become more efficient and encounter new, relevant information in real time. You just need to give them the tools to do so.
Mobile for associates
Have your people work smarter, not harder. Flooid's mobile stock and inventory gives retail teams real-time updates on stock accuracy and movement, and an intuitive UI.
Mobile payments in-store
Redefine your in-store experience and queue-busting by taking payments wherever your customers want. Choose Flooid Mobile POS for cashier activities, product, price, loyalty, returns and gift cards, all in the local language and currency.
Mobile for consumers
Enable your customers to scan / pay / go. Leverage Basket by Flooid with your in-house app developers or agency to reduce total cost of ownership while giving your customers freedom to shop their way.
Flooid Endless Aisle
Save the sale and create orders in-store. See our App Suite for more.