Customer experience is a key retail battleground; businesses that offer consumers the ability to pay in the way they prefer have a natural advantage. Flooid has partnered with UK Grocer Waitrose for almost two decades, helping to extend the way customers can shop and pay.
By Len Lewis, Veteran Retail Journalist
Since its inception in 1904, Waitrose has never veered from its basic principles — providing the best products and premium service to discerning customers and paying little, if any, attention to short-term fads.
More than 100 years and 340 stores later, the UK supermarket chain, a division of the John Lewis Partnership whose name has become synonymous with upscale retailing, still sticks to its values but has expanded the idea of high-quality service to include a scan-and-pack system — the first British chain to adopt this customer-facing technology.
Meanwhile, the use of scan-bag-and-go technology is expanding at a rapid pace in the United States with chains like Walmart and Kroger aggressively expanding its use, 7-Eleven piloting a new project and Amazon continuing to refine its cashierless Amazon Go concept — despite concerns among some observers that the technology could promote increased theft.
"I wouldn't want to get to a point where customers say that they shop at Waitrose for our great payment solution," says Matt Clifton, Head of Checkout & Payment, John Lewis Partnership. "But customer habits are moving so fast you can't afford to sit still, or you run the risk of becoming less relevant. I think we've got the right options that combine the quality of our products with the in-store experience."
"Customer habits are moving so fast you can't afford to sit still."
- Matt Clifton, Head of Checkout & Payment, John Lewis Partnership
Growth through differentiation
The option he refers to — and a point of differentiation for Waitrose in the hyper-competitive UK supermarket scene — is its long-term partnership with Flooid, the global software firm that developed and implemented the chain's highly successful mobile self-scanning system.
That plays directly into the "peak-end" theory, Clifton says — when customers go shopping they remember the best part of the experience and the last part, which is generally the payment phase.
"If the last part is bad, that's all the customer remembers," he says. "It doesn't matter how good everything else was. Our aim is not to make payment the best part of the shopping trip but frictionless, so customers remember the products and the entire in-store experience."
The strategy is apparently working: Waitrose sales are about $9.1 billion on a relatively small 5 percent market share. "We're not looking to grow through space but through differentiation," Clifton says. "It's not about being bigger than a 5 percent market share but the best 5 percent market share by focusing on product quality and the shopping experience. We're very clear about what our customers want, and I think we're executing it brilliantly."
Key to that is the chain's investment in payment technology and making sure it meets the customer's needs — whether it's a tech-based service or interaction with store associates.
The system developed through Flooid ticks both boxes, maintaining Waitrose's upmarket reputation. Customers entering a store pick up a handset or download an app and use their mobile phones to scan products as they shop, smoothing out the checkout experience. "We've been working with Flooid on payment software from the beginning and the technology has changed to take advantage of underlying promotions and basket management," he says.
About 40 percent of all in-store transactions are self-service right now, and he expects that to increase over the next several years. "Ironically, 40 percent was our target when we started, and we thought it would be amazing to reach that goal. Since we got there relatively quickly, there's no doubt the percentage will grow," Clifton says, noting that the 40 percent is split fairly evenly between the store's portable self-scanners and customers' own mobile devices. A third element is fixed self-checkouts, which also use the Flooid software.
Self-scanning has also placed Waitrose ahead of the curve in terms of changing shopping patterns. "We've seen consumer expectations change significantly in the past three or four years. It's moved from the traditional weekly shopping trip to smaller, more frequent shops — three or four times a week," he says.
"Especially if people are shopping at the end of the day, convenience wins out over choice every time. They just want to get out of the store and go home to feed the kids. Self-service puts customers in control of the shopping trip by giving them the ability to check out quickly and easily."
"Self-service puts customers in control of the shopping trip"
- Matt Clifton, Head of Checkout & Payment, John Lewis Partnership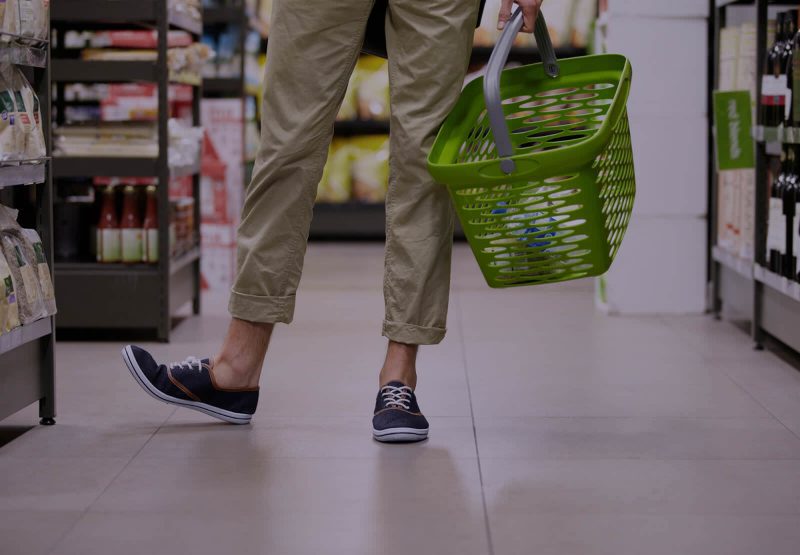 Reinvesting in service
Clifton is aware of the debate over whether self-scanning and self-checkout simply create more work for customers. "Our stores are all about ease and payment options. As long as we offer people a choice, I'm comfortable that we're doing the right thing."
To some degree, the payment system is part of a larger eCommerce strategy for Waitrose. "Working with Flooid, we've built one service that includes the basket pricing system, which is then used by our self-scan solution to look up prices, which is also used by customers on our eCommerce platform," he says.
"You build a service once and make it as efficient as possible for use in many places with consistent pricing data. We wouldn't have been able to do that without Flooid's capabilities."
Reaction from customers has been overwhelmingly positive. "Surveys show the speed and ease of checkout is one of the strongest performers in customer satisfaction," Clifton says, adding that the service has been aggressively promoted in the store and in online advertising. Furthermore, all members of the My Waitrose loyalty program are automatically registered to use the self-scanners.
As for a move into cashierless stores like Amazon Go, "It's dangerous to predict the future," he says. "But I don't see Waitrose doing fully cashierless stores. We want to offer our customers a choice of payment. However, I do think we will develop ways to make shopping even easier. Additionally, doing cashierless stores constrains the product mix and the service experience you want to offer. It's a more attractive prospect for smaller, convenience operations."
Self-scan has reduced labour costs, he says. "But it's been reinvested in customer service and support in all aisles of the store. We're able to offer our partner associates the product knowledge that gives them the confidence to answer questions about products and to recommend recipes and wine pairings. The bottom line is that the system has enabled us to shift resources and provide even greater customer service."
Meanwhile, Clifton is looking to refine and expand the systems. "One area of interest to me is enabling customers to provide identification for age-restricted products like alcohol once so they don't have to wait for an employee to serve them. I'd also like customers to see how much they're spending. Some customers will use that as a budgeting tool. But I don't think it constrains purchases. People use this tool to spend up to their budget or a little more."
Flooid works with some of the world's leading retailers. If you would like to learn more about Flooid's capabilities, please Contact us.